Diva-Impresario Honorees Gather at Coral Ridge Yacht Club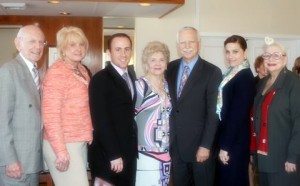 On October 28, the Honorees, Liaisons, Hosts and Hostesses of the 2009 Diva Impresario Awards Luncheon were invited to attend a "Working Brunch" at the Coral Ridge Yacht Club hosted by Hostess Chairmen, Beverly DiNunzio and Ande Bellevue Mayhue, Luncheon Chairman and Event Founder, Barbara Copanos, Luncheon Co-Chairman, Linda Balent, Opera Society President, Barbara Parent and long-standing Board member, Janet Mehner.

The purpose of the brunch was to bring everyone together and inform them about the up-coming luncheon events and duties. After a delicious brunch of Eggs Benedict made with Ham, Crab or Steak accompanied by stuffed waffles, President Barbara Parent welcomed the group of fifty attendees. Chairmen Barbara Copanos introduced the honorees:
Grand Impresario Ben Harrison
Grand Diva Jane Robinson
Helena Caplan
Judy Drucker
Victor Mendelson
Rose Miniaci
Ann Rentoumis
Ana Varela
Joyce Walker
Mr. and Mrs. George Thorne
who stood to be recognized. Co-Chairman Linda Balent then discussed the various forms included in the folder which everyone had received. This included the timeline of events and the importance of soliciting ads for the Luncheon Journal which is a major source of fund-raising.
Florida Grand Opera CEO, Robert Heuer addressed the group with an overview of the outstanding up-coming season of operas, and he described the challenges faced by all cultural institutions in today's economy. He thanked the group for all their efforts. We were then delightfully treated to 3 arias by Irene Patti Hammond, retired soprano and founder of The Young Patronesses of the Opera, the oldest affiliate group of Florida Grand Opera. Her well-known accompanist, Roberto Berrocal, enthralled the group with a brief Hungarian Rhapsody.
We look forward to seeing everyone at the Diva Impresario Awards Luncheon on February 17, 2009 at Hyatt Regency Pier 66 Panorama Room!