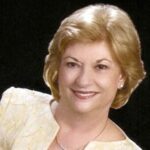 Dear Opera Friends,
Welcome to our 30th Anniversary Year of fundraising for Florida Grand Opera. It is through our efforts that we can assure that world class opera continues to flourish in South Florida.
Our mission is not only to raise funds for FGO, but also to foster community interest in the opera, to promote friendship among music lovers, and to provide charitable, educational and cultural projects for the public.
To accomplish all of this, it is imperative to increase our membership. I invite all of you to our first event of the season, and please bring a friend, to our Fall Membership Luncheon on Wednesday, October 22, 2008, at 11 AM at the beautiful home of Barbara Copanos. Music will be provided by pianist and society member, Ann Rentoumis. For more information contact the Josephine S. Leiser Opera Center at 954-728-9700.
Our new Membership Directory will be available at the luncheon. To ensure your inclusion in the directory, please send your dues to the Membership Chairman, Dr. Gloria Kline, as soon as possible.
One of our most famous and long-running fundraisers is the popular "Guess Who's Coming to Dinner" series. There is still time to be a hostess and have your event in our program book, which will be available at our Fall Membership Luncheon.
Chairmen Isobel Sturgeon and Mary Moschos have a deadline of October 6 for publication. Remember, no party is too small or too large, too casual or too formal. If you would like to host a luncheon or dinner, please reach Mary Moschos through our contact form below.
I am very excited about our new lyrical series, which will be titled "Luxurious Lyrical Libations: A Tea, A Coffee and An Aperitif". Reserve the date of Monday, November 17, 2008 from 3–5 PM. The first Lyrical Tea program will feature the "Dueling Divas". More information will follow from Chairman Melanie Camp and Jan Solomon, her Co-chair.
Barbara Copanos and Linda Balent have been very busy planning one of our major fund raising events: The Diva Impresario Awards Luncheon. To learn more about our honorees, click on 2009 Diva Impresario Awards located in the right column under Page Map.
We are off to a very good start, but we need your support to accomplish our goals.
I look forward to seeing you at the Fall Membership Luncheon, the GWCTD Series, and the first of our Luxurious Lyrical Libations.
Sincerely,
Barbara Parent, President