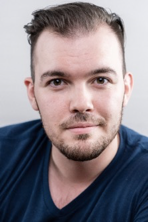 A native of New York City, Charles Calotta, tenor, recently received his Masters degree in Opera Performance from the Maryland Opera Studio.
He graduated from Vanderbilt University in 2017, having won awards in collaborative and operatic performance.
During the 2018-2019 season, Calotta performed several roles in the world premiere of Elizabeth Mehl Greene's Hajar, Mr. Buchanan and Mr. Fiorentino in Weill's Street Scene, and was a resident artist at Opera North.
In addition to the operatic stage, Calotta was a soloist in several orchestral concerts including Beethoven's Mass in C, an evening of Italian arias with the Glens Falls Symphony Orchestra, and others.
During the 2019-2020 season, he played the role of Lurcanio in Handel's Ariodante and the Schoolmaster in Janacek's The Cunning Little Vixen. Calotta returns to Opera North to play the role of Tamino in The Magic Flute by Mozart.
He is currently studying under tenor Gran Wilson.
A first year Studio member, this season, Mr. Calotta will be singing Young Collector in A Streetcar Named Desire, Matteo Borsa in Rigoletto, and Tommy McIntyre in Fellow Travelers. For more information about Charles, please visit charlescalottatenor.com.