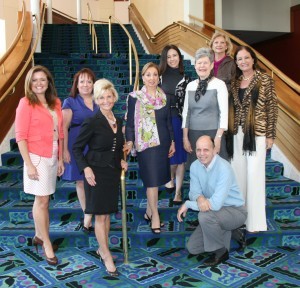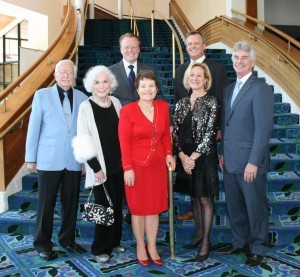 Article and photos by Betty Young 
 On Friday, May 3, 2013 the Opera Society's highly acclaimed Diva Impresario Awards Luncheon will be held at the newly renovated Broward Center for the Performing Arts.  The Opera Society, a philanthropic group of supporters of the Florida Grand Opera, will recognize individuals for their outstanding contributions to the Opera, the arts, and our community. Luncheon Chairman, Becky Irwin stated, "The Arts are more than just a wonderful pastime, the business of "the Arts" drives significant revenue, jobs, and increased quality of life in South Florida. No one knows this better than these dedicated men and women. I am delighted to announce this year's honorees."
The Divas
Mary Becht,  Former Director, Broward County Cultural Division
Harriet Mertz, Longtime Opera Patron, Opera Singer, Florida Grand Opera Lyric Society Grand Patron Member
Kristin Podack, President, Young Patronesses of the Opera
The Impresarios
William K. Hill, Esq., Shareholder, Gunster, Chairman, Florida Grand Opera Board of Directors
William Riddle, Executive Director, Venetian Arts Society
Kelley Shanley, President and CEO, Broward Center for the Performing Arts
Samuel M. Townsend, Longtime Opera Patron, Lyric Society Impresario Member
Gregory von Hausch, President and CEO, Fort Lauderdale International Film Festival           
Guest will be welcomed in the Peck Court reception, with a special signature "Tsartini" cocktail courtesy of Tsar Premium Vodka, and a glimpse behind-the-scenes of the performance, "La Traviata." The new Chinese raffle will include a Holland America Caribbean Cruise, a weekend stay at the Hilton Fort Lauderdale Beach Resort, portrait sitting by Tiffany photographers, Florida Grand Opera tickets, Broadway show tickets, discounts from Travel Spots Shots and much more.
Following the reception, guests will be seated in the theater for the program, hosted by the beloved voice of FGO, Justin Moss.
At the conclusion, guests will be ushered into the Horvitz Lobby of the Au-Rene Theater to indulge in a gourmet feast prepared by the Broward Center's Executive Chef. The angelic voices of members of Florida Grand Opera's Young Artist Studio will fill the lobbies as guests enjoy this one-of-a kind event.
Committee members include Becky Irwin, Chairman, Kim Naimoli, President, Helena Caplan, Carol Frei, Barbara Parent, Nuccia McCormick, Eric Koskoff, Ruth Molina and Betty Young and Barbara Copanos, Founder.
For information on how to become an underwriter or sponsor of the "Diva Impresario Awards Luncheon," or make reservations to attend the event, please call 954-249-0374
Photo of the Committee
Front row
Becky Irwin, Chairman
Betty Young, VP Public Relations
Eric Koskoff, VP Membership
2nd row
Shelly Bradshaw. VP of operations at Broward Center for the performing Arts
Helena Caplan
Carol Frei
Kim Naimoli, President
3rd row
Maria Ordonez
Barbara Parent
Photo of Honorees
First row
Samuel M. Townsend
Harriet Mertz,
Mary Becht
Kristin Podack
William K. Hill, Esq.
2nd row
Kelley Shanley
William Riddle