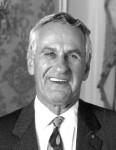 David E. Melin was born in the Bronx, New York. After serving in the U.S. Navy during World War II, from 1944-1947, he returned to New York, where he attended Long Island University, graduating in 1951.
Having seen the world during his service in the navy, David decided to settle in Florida and spend the rest of his life here. He founded Tech Aerofoam Products, a foam manufacturer and distributor. He became a distributor of building materials as well. His company, which expanded throughout Southeast Florida and Puerto Rico, went public in 1962. David sold the company in 1976 and retired in 2000.
He has been married for forty years to his beautiful wife Olga, and together they have spent their time and financial resources to make South Florida a better place to live. David has been on the board of Florida Grand Opera for over twenty-five years, starting when Bob Herman was general manager and continuing to the present with Bob Heuer.
The Melins have been Crown Jewels of Florida Grand Opera as well as donors to numerous other arts and education organizations including Barry University, the University of Miami Frost School of Music, Miami Salon Group, Miami City Ballet, the New World Symphony, the Chopin Foundation of the United States, and the Sun Valley Symphony.
David is active in breeding and racing horses and has won many Florida Stage Races. He enjoys reading, traveling all over the world (it has changed a lot since 1947!), and playing golf near their homes in Palm Beach and Sunny Isles Beach, Florida, and in Ketchum, Idaho.
David and Olga have three daughters, one son, five grandchildren, and two great-grandchildren. They have the good fortune to have a wonderful life—and the generous nature to share it with others.