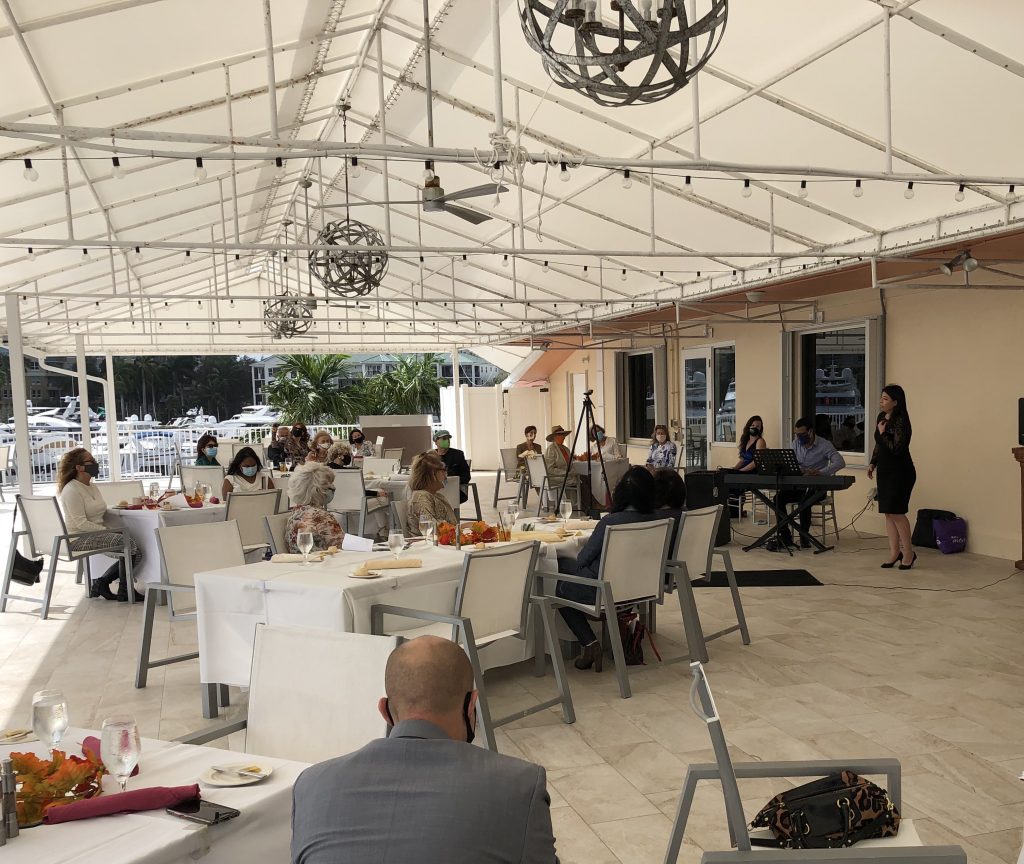 Membership Luncheon features Mitch Roe, Director of Artistic Administration, Florida Grand Opera and Florida Grand Opera Studio Artists
Fort Lauderdale, FL, November 19, 2020 – The Opera Society welcomed former and new members to our Season opening event, our Membership Luncheon, held at the Coral Ridge Yacht Club on the beautiful open-air Veranda.
We also welcomed Florida Grand Opera's Director of Artistic Administration, Mitch Roe, and sensational Studio Artists, Shaina Martinez and Stephanie Doche. He gave an informative account of opera's evolutionary history from the Classical Period through the Romantic bel canto Period to the Verismo Period, with the Studio Artists singing examples of each historic era. These stunning performances left the audience yearning for more.
Board member Dr. Linda Balent presented the opportunity to support Florida Grand Opera's Education Program. This year will showcase the world premiere of a children's opera about the power of friendship, Frida Kahlo and The Bravest Girl in the World. It will be presented in Broward and Miami-Dade County schools digitally for grades 4-8.
KayeLynne Northcutt, on behalf of the Opera Society Board, presented Past President Jan Solomon with a stunning wide-brimmed elegant hat to recognize her service for the past two years at the helm of The Opera Society.
A delicious lunch was served following the performances.
Members of the Florida Grand Opera Board, Dr. Linda Balent and Himanshu Bhatt, also attended.
We were also joined by several members on Zoom for the Welcome and performances, including Melanie Camp, Barry Rabinowitz, President Isobel Sturgeon, Carol Frei, Liz Hopwood, and Barbara Becker.
The afternoon was enjoyed by all and we appreciated the opportunity to see each other in person and on Zoom, and share our love of opera.
For information, please see our website, theoperasociety.org or contact [email protected]
The Opera Society is an affiliate organization of Florida Grand Opera.