Lefka's & Naimoli's Kick Off The "Guess Who's Coming To Dinner" Season
By: Kim Naimoli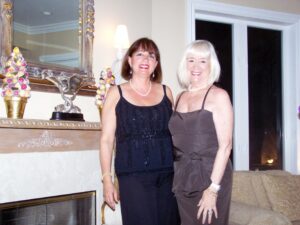 Barbara and Maury Lefka opened their elegant Tarpon Bend home for the first "Guess Who's Coming To Dinner" of the season on Sunday November 9, 2008. 12 guests were picked up at the Riverfront dock by Captain Steven Naimoli and Captain Jeff Garcia and brought by boat to the party. They were greeted at the door with a glass of Veuve Clicquot, beautiful opera music and an array of gourmet appetizers prepared by Kim Naimoli.

Fish Peddler East provided all of the delicious fresh seafood. There were clams on the half-shell dotted with a home-made horseradish mayonnaise, oysters on the half-shell with cucumber mignonette sauce, cucumber cups stuffed with spicy crab salad and everyone's favorite, caviar stuffed eggs.
Pedro Ramos, District Manager for Icon Estates, generously provided wine from his personal reserve collection. He chose a Kim Crawford Pinot Gris to complement the appetizers.
After cocktail hour, guests dined waterside under a brilliant starry sky and a cool evening breeze. Attention to detail was the name of the game Sunday night. From her luscious linens to the beautiful Safari print china and crystal glasses, Barbara outdid herself once again.
Dinner began with a pumpkin soup laced with sweet Italian sausage, gruyere cheese, crème fraiche and sage leaves fried in browned butter. A Wild Horse Pinot Noir complemented the soup with its deep cherry undertones.
Next came an arugula and endive salad with white wine vinaigrette and toasted pecans. Pedro provided a tasting of 3 wines to complement the salad, Kim Crawford Chardonnay, Simi Sauvignon Blanc & Robert Mondavi Fume Blanc.
Following the salad, was a smoked salmon and herbed butter on an onion rye crostini. The buttery salmon melted in your mouth, a perfect balance against the crispness of the crostini. An ice cold Viognier enhanced the salmon perfectly.
We then indulged in a basil key lime sorbet to cleanse and prepare the palate for the pièce de résistance, garlic whipped potatoes with langoustines, and lobster drizzled with green onion vinaigrette. The wine chosen to complement the entrée? A rich, buttery Franciscan Cuvee Sauvage Chardonnay.
Coffee & tea were served followed by a fruit and cheese course with a fine 12-year old port. Dinner ended with profiteroles garnished with dark chocolate ginger bark and whipped cream.
"It was an extremely indulgent evening that I will never forget," said Kim Naimoli.
"The people that attended made the party," said Barbara Lefka of her guests and "the food was fabulous"
svgallery=gwctd_lefka_200811