A New Season of Activities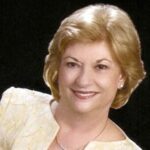 Dear Opera Friends,
Plans are well underway for the 2008-09 Opera Society Season. Our first Membership Luncheon, chaired by Barbara Copanos, will be held on Wednesday, October 22, 2008 where we plan to honor new members to the organization.
The chairmen for Guess Who's Coming to Dinner, Isobel Sturgeon and Mary Moschos, are looking for members to host a luncheon or dinner for the popular fundraiser. No party is too small or too large, too casual or too formal. If you would like to host an event please reach Mary Moschos through our contact form. We are hoping to have a kick off party in December.
Plans are moving along nicely for the Diva Impresario Luncheon chaired by Barbara Copanos and Linda Balent, to be held on February 17, 2009, as well as the Cultural and Humanitarian Awards Dinner chaired by Rose Mary Zenobia and Arlynne Bentsen, to be held on April 3, 2009.
Helena Caplan is chairman for the March Membership Mad Hatters' Tea.
Melanie Camp is making plans for the Lyrical Luncheons and Ande Mayhue will graciously chair the May Installation Luncheon.
I hope that you will all join us for the "fun"draisers that we are planning. Remember that all the funds we raise go to support Florida Grand Opera.
Sincerely,
Barbara Parent, President