November 3, 2022
Written by Jan Solomon, PhD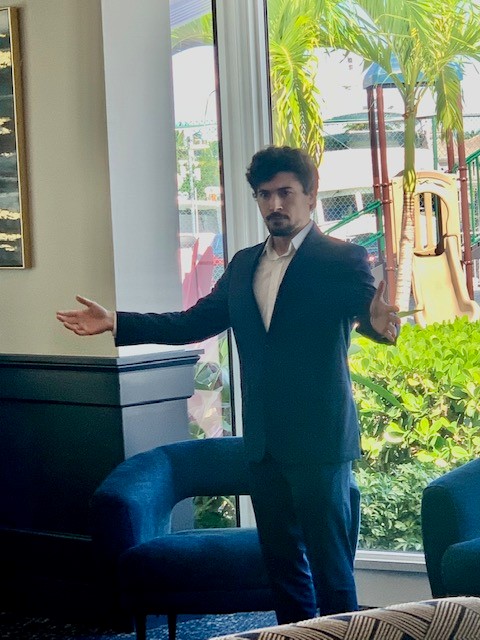 On Thursday, November 3, The Opera Society welcomed former and new members to our first Lyrical Luncheon of the season held at the Coral Ridge Yacht Club in the Commodore Lounge. We also welcomed Florida Grand Opera's sensational Studio Artists, bass-baritone Phillip Lopez (pictured above), mezzo-soprano Erin Alford, and Jared Peroune, pianist. They performed enchanting arias from the first opera of the Florida Grand Opera season, el matrimonio secreto by composer Domenico Cimarosa. Matt Cooksey, Studio Artists Program Manager, gave a detailed account of this historical period of opera, the Mozart/Rossini era, and then a glimpse into the story of The Secret Marriage which FGO has set in the 1980s in Miami Beach, swimming pool and all.
President Claire Crawford welcomed our Members and guests to this first of four Lyrical Luncheons this season. She gave a briefing on the state of The Opera Society and announced our financial goal this season to raise $75,000 in support of FGO, as well as the work of the Nominating Committee to prepare for elections in the spring. VP, Ways and Means, Patrice Tedescko invited everyone to attend our upcoming Holiday Party on Sunday, December 4th at the Coral Ridge Yacht Club. Champagne reception at 5:30pm followed by Dinner, performances by young artists, and dancing. What could be a better way to start off the holidays?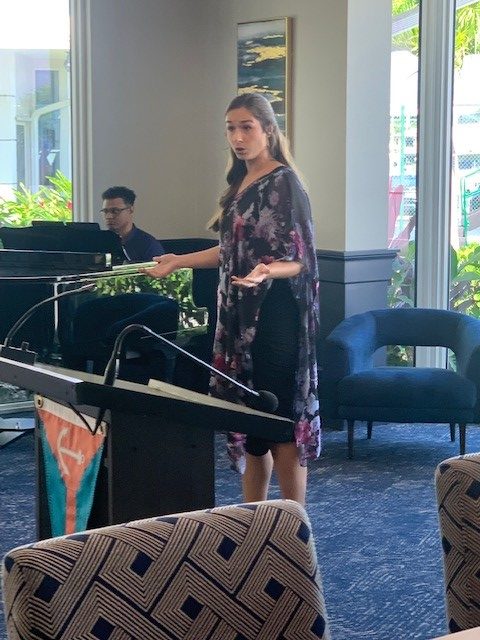 Co-Chair Dahlia Blake introduced our Board Members in attendance, and Jan Solomon introduced Matt Cooksey and the singers for the preview and performances.
A series package of all 4 Lyrical Luncheons is available for a discount of $280, or a 3-series package for $210. January 18th will be the next Lyrical Luncheon previewing the double-bill of Puccini's Gianni Schicchi and Michael Ching's Buoso's Ghost. On March 22nd, we will hear arias from the most grand of operas, Puccini's Tosca. Our final Lyrical Luncheon on May 4th will be a preview of Rossini's The Barber of Seville. Individual Lyrical Luncheons are $75.
The afternoon was enjoyed by all and we appreciated the opportunity to see each other after a long summer and share our love of opera.
For information please see our website, theoperasociety.org or contact Jan Solomon [email protected]
The Opera Society is an affiliate organization of Florida Grand Opera.