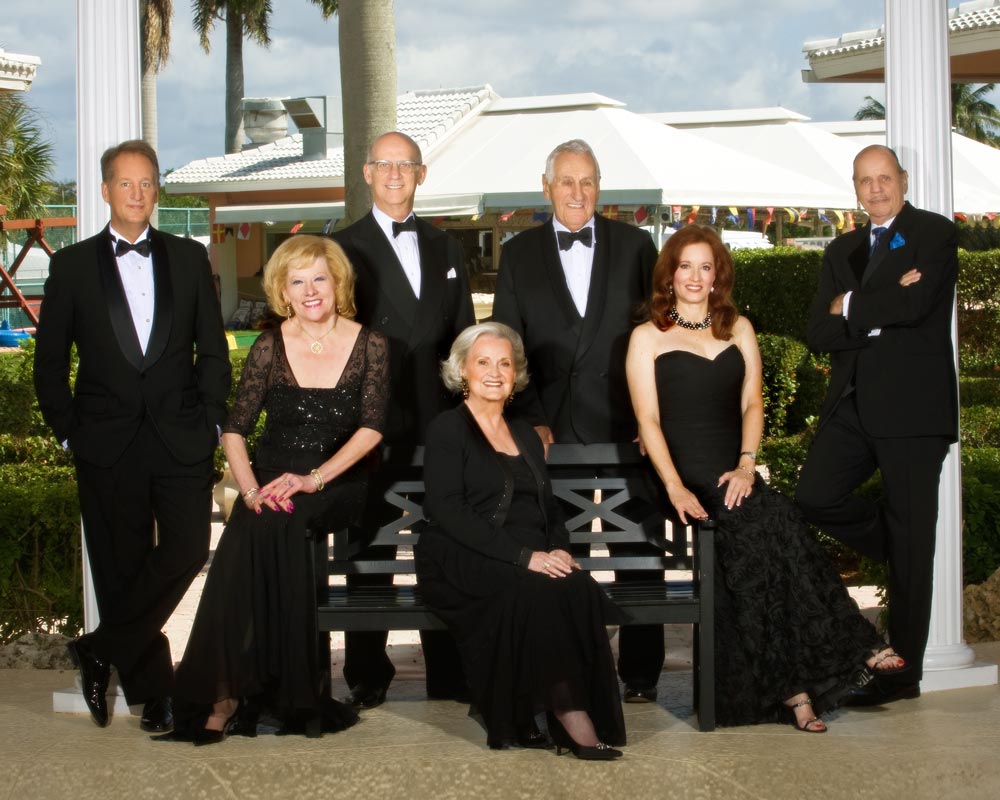 (l. to r.) Douglas Evans, Louise Harms, Irvin Lippman, Dr. Gloria Kline, David Melin, Rebecca Spinale, Eric Koskoff (Tiffany Photgraphy)
The Opera Society Diva Impresario Awards Luncheon will take place on February 23, 2012 at the Panorama Room Pier Sixty Six Hyatt Regency. The following Honorees will be recognized for their outstanding leadership, generosity and support of Florida Grand Opera and the cultural community of South Florida:
GRAND DIVA Dr. Gloria Kline: Past President, The Opera Society, Past Treasurer, The Opera Society
Diva A. Louise Harms: President, The Guild of Florida Grand Opera; Sponsor, Florida Grand Opera Young Artist Daniel Shirley
Impresario Douglas Evans: General Manager, Classical South Florida, 89.7 FM
Impresario Eric Koskoff: Second Vice Membership, Membership, The Opera Society several terms
Impresario Irvin Lippman: Executive Director, Museum of Art, Fort Lauderdale, Nova Southeastern University
Impresario David Melin: Board of Directors, Florida Grand Opera
Diva Rebecca Spinale: President, Young Patronesses of the Opera
The following individuals have volunteered to serve on the Diva Committees. We welcome new volunteers to help. If you wish to volunteer for any of our committees, please contact Carol Frei.
Event Founder: Barbara Copanos
Chair: Carol Frei
Advisors: Linda Balent and Barbara Copanos
Diva Selection Committee: Barbara Copanos, Linda Balent
Young Artist Program: Barbara Copanos
Underwriting Chairman: Roger Hinkley, Tracy Roloff
Hostess Chair: Helena Caplan
Liaison Chair: Gloria Kline
Decorations: Party Deco, Inc (Ralph Stivali)
Reservations: Barbara Parent
Invitations: Linda Balent
Awards: Barbara Copanos
Favors: Robert Trate
Journal: Joyce Walker, Linda Grabowski
Journal Ads: Carol Frei
Journal Biographies: Gloria Kline
Raffles: Eric Koskoff
Silent Auction: Ruth Molina
Jewelry Boutique: Maria Salgado
Handbag Boutique: Designer Discount
Video Program: David Yuen, Justin Moss
Mystery Music: Linda Grabowski, Justin Moss
We look forward to seeing everyone at the luncheon to celebrate these outstanding individuals who are our friends!!! Please help with underwriting or volunteer on one of our committees or volunteer a silent auction prize! Raffle tickets will arrive in the mail soon for purchase before (as well as during) the luncheon!!
(Front) Carol Frei, Barbara Copanos, (Back) Linda Balent, Helena Caplan (Tiffany Photography)