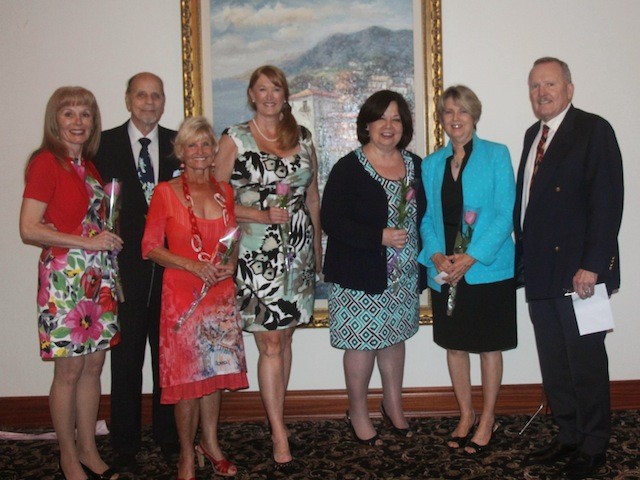 It was a lovely spring day on Thursday, May 7th for the Opera Society's Spring Luncheon and Installation of Officers for 2015-2016. As guests gathered in the Lounge of the Bistro Mezzaluna, Ann Rentoumis graciously entertained us on the piano as we sipped our champagne. After socializing for a while we headed upstairs to the Lighthouse room for the membership meeting and luncheon.
As the guests' lunch menu preferences were being taken, a brief business meeting was conducted. Karen Mathieson, welcomed guests and acknowledged our special guests, Susan Danis, General Director and CEO, Florida Grand Opera, and Justin Moss, FGO's Director of Broward Operations & Outreach. Our two new members in attendance, Dr. Jacqueline Hayward and Mr. Jeffrey Blum were introduced and presented with a welcoming rose. President Eric Koskoff then presented gifts of acknowledgement to the Opera Society 2014-2015 Officers.
Justin Moss conducted the swearing in ceremony to install the new Officers and presented the ladies with a lovely rose and for the gentlemen, a tasty chocolate rose. The new slate of Officers for 2015-2016 is:
President:                                Dr. Claire Crawford
V.P. Ways & Means:             Karen Mathieson
V.P. Membership:                 Eric Koskoff
V.P. Public Relations:           Betty Young
Corresponding Secretary:   Dr. Linda Balent
Recording Secretary:             Ruth Molina (not in attendance)
Treasurer:                                  Gary Loft: (not in attendance)
We were then honored to have Susan Danis, General Director & CEO present an overview of Florida Grand Opera's 2015-2016 Season.
Bistro Mezzaluna served a lovely lunch consisting of a choice of three entrees: wedge salad with grilled chicken, grilled salmon, or Rigatoni Bolognese. Desert was key lime pie. It was a delightful event everyone enjoyed. Special thanks to Isobel Sturgeon for the lovely table decorations, to our gifted pianist Ann Rentoumis, and to our photographer Betty Young for the wonderful pictures.
Karen Mathieson
[simpleviewer gallery_id="48″]