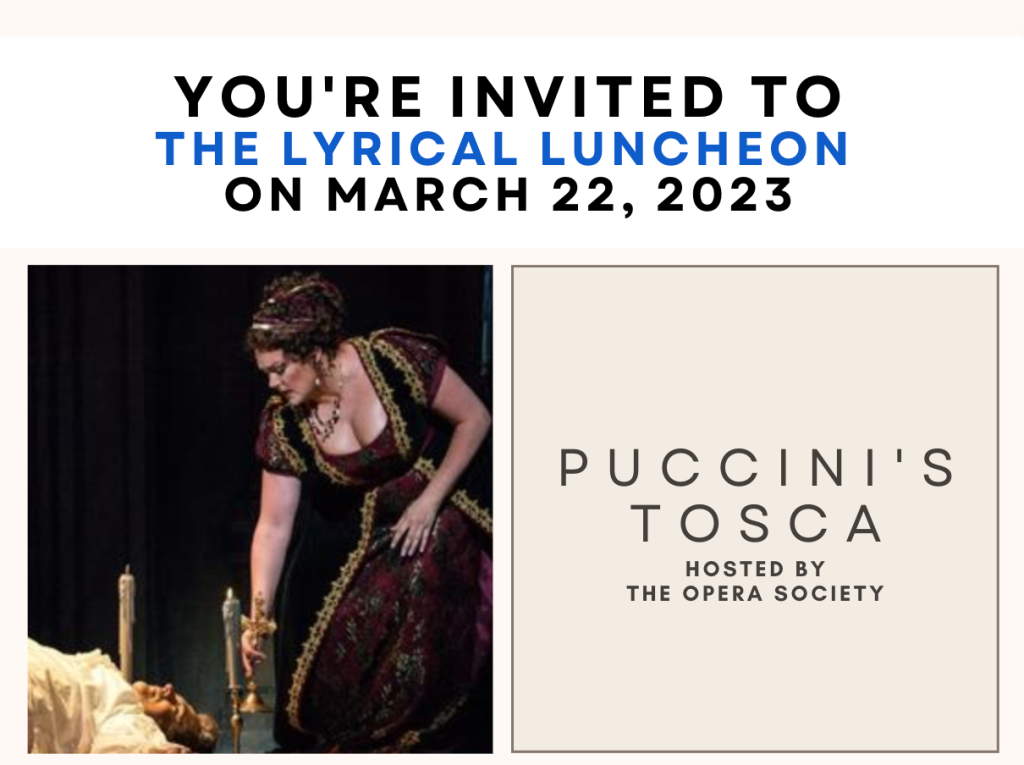 Join The Opera Society for our next Lyrical Luncheon
On Wednesday, March 22, 2023

The program will consist of the Spring General Membership Meeting and an
exciting preview by Matt Cooksey, Florida Grand Opera's Director of Artistic
Operations. Studio Artists will perform enchanting arias.

Attendees will enjoy a lovely catered lunch with friends and an infusion of opera.

DATE: WEDNESDAY, MARCH 22, 2023
TIME: 11:30 AM EST

LOCATION: THE CORAL RIDGE YACHT CLUB
ADDRESS: 2800 YACHT CLUB BOULEVARD
FORT LAUDERDALE, FL 33304
Purchase tickets to this event here: https://www.theoperasociety.org/lyrical-luncheons-2022-2023/
ABOUT THE OPERA SOCIETY
The Opera Society is an affiliate organization of the Florida Grand Opera (FGO) with a mission to foster community interest in opera music, promote friendship among music lovers while also promoting charitable, educational and cultural programs and activities throughout Broward County that support the local Opera music industry. As a volunteer-based organization, the Opera Society is led by 2022-2023 President, Claire Crawford and under her leadership continues to foster a strong opera music community that provides unique opportunities and compelling opera experiences. To learn more about the Opera Society, its top annual fundraisers, and events hosted in conjunction with FGO, please visit www.theoperasociety.org. To become a member or collaborate with the Opera Society, please contact the organization's Membership Chair, Jan Solomon, via telephone at 954.553.0435. Follow The Opera Society on Facebook for regular event & news updates.
ABOUT THE FLORIDA GRAND OPERA
The Florida Grand Opera is a Florida-registered non-profit organization that is dedicated to uplifting and promoting renowned and upcoming Opera singers and fans alike. It is Florida's oldest performing arts organization having just celebrated its 81st year of operation. The FGO was formed in 1994 by the merger of Greater Miami Opera, founded in 1941, and The Opera Guild Inc. of Fort Lauderdale, founded in 1945. Nicknamed "The Met of the South" by the many distinguished artists who have graced its stage, FGO continues to host a variety of harmonious musical events, charity functions and events that blend traditional opera masterpieces with innovative contemporary works. To learn more, visit www.fgo.org and follow the organization on Facebook.