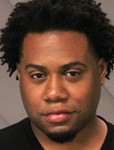 Key'mon W. Murrah, a countertenor native to Louisville, Kentucky, received his degree from the University of Kentucky.
He has sung in Handel's Giulio Cesare with the Red River Lyric Opera and Vivaldi's Montezuma with the America Baroque Opera Co.
Murrah was selected in the 2019 Carnegie Hall's Weill Music Institute in a Masterclass with Joyce DiDonato.
In 2020, he toured with the American Spiritual Ensemble and was a young artist at the Glimmerglass Opera Festival.
In 2018, he won the Encouragement Award for the Metropolitan Opera Council Central District Auditions, and 2nd place in the Emerging Soloists Competition.
In 2020 he won first place in the Camille Coloratura Competition, he was a semi-finalist in the MONC Auditions, and was the Grand Prize winner of the Premiere Opera Foundation + NYIOP International Vocal Competition.
In 2021, Mr. Murrah will sing Bertarido from Handel's Rodelinda as a Fleming Artist at the Aspen Music Festival.
For more information about Key'mon, visit www.keymonmurrahcountertenor.com.