Delightful Afternoon With The Duelling Divas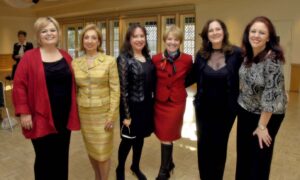 The first in a series of Luxurious Lyrical Libations: A Tea was held on November 17, 2008 at the Josephine S. Leiser Opera Center. "The Duelling Divas", a hilarious comedic performance that has delighted audiences throughout the region, took tea with The Opera Society members and guests who were entertained with a mini-performance from the Divas in Duelling: Wendy Reynolds and Birgit Fioravante. Reynolds exclaims, "It's a respectfully irreverent musical revue on the seriously funny spectacle of opera."
Known for their unique look at the world of opera, the two opera singers came up with the idea of doing something a little different than the usual vocal concert of opera highlights and show tunes. They added characters, storyline and comedy to create the operatic revue "Duelling Divas". Pianist Heather Coltman joined the divas as their accompanist.

Presenting sponsors, Barbara Copanos and Helena Caplan, poured tea for the guests. Event chairman, Melanie Camp, was assisted by her co-chair, Jan Solomon. Delightful tea delectables were provided by Gail Murphy Catering.
Our next Luxurious Lyrical Libation: A Coffee: Cafe au lait will take place on December 15, 2008 at 10 AM at the Josephine S. Leiser Opera Center. Guest performer is soprano Jessica Vanderhoof. For more information contact Melanie Camp at 954-565-8608.
svgallery=lyrical_luncheon_200811