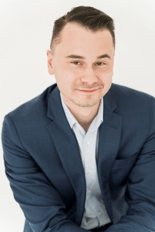 Texas native Michael Pandolfo has been performing his whole life.
In his hometown of Fort Worth, TX he performed with many local theatres including Casa Mañana and the Fort Worth Opera.
In 2018 he graduated with his Bachelor's of Music from the University of Kentucky, and in 2021, he achieved his Masters in Music from the University of Cincinnati College Conservatory of Music.
Recent credits include Papageno in The Magic Flute and Don Andrès in Songbird at The Glimmerglass Festival (Summer 2021).
When he is not performing, Michael enjoys practicing photography, hiking, cooking, and sharing a nice bourbon with friends and loved ones.
A first year Studio member, this season Mr. Pandolfo will be singing Marullo in Rigoletto, and Senator Joseph McCarthy in Fellow Travelers.
For more information about Michael, please visit michaelpandolfo.com.