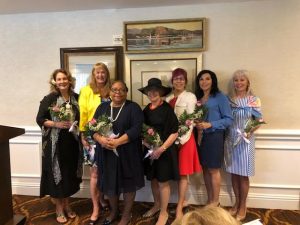 Susan Danis, FGO General Director and CEO installed the newly elected Officers of The Opera Society at a beautifully planned songfest and Spring Luncheon at the Coral Ridge Country Club in Fort Lauderdale.
2018-19 President, Jan Solomon is joined by VP Ways & Means, Karen Mathieson, VP Membership, Nadia Greenidge, VP Public Relations, Melanie Camp & (Helena Caplan, not pictured), Recording Secretary, Isobel Sturgeon, Corresponding Secretary, Linda Balent, Treasuer, Ruth Molina.
A salon style performance from the Studio Artists as well as a thank you from outgoing President, Karen Mathieson set the stage for a delightful spring fling!