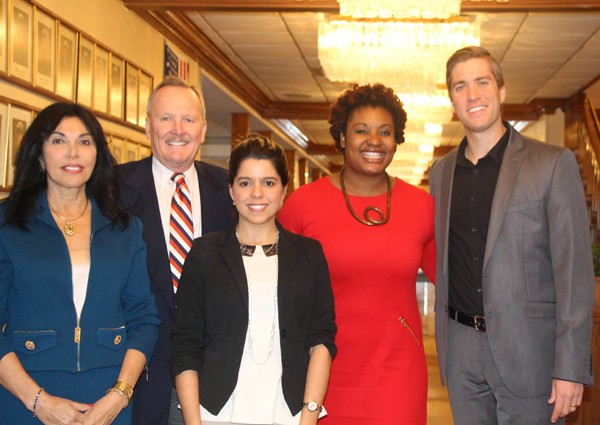 The Opera Society celebrated its first Lyrical Luncheon on November 20, 2014 at the Coral Ridge Yacht Club attended by almost 50 guests. Chair Barbara Parent welcomed the members and guests. Co-Presidents Ruth Molina and Eric Koskoff spoke about up-coming events including the January 29, 2015 Lyrical Luncheon, which will be held at the Coral Ridge Country Club and the March 21, 2015 Lyrical Luncheon, which will be held onboard the Holland America ms Westerdam cruise ship with a 45 minute performance by our Young Artists. Also planned for March 6-7 is the Sarasota Opera Trip. For more information contact Ruth Molina.
Other events coming up: December – April are the Guess Who's Coming to Dinner series. Chairpersons Claire Crawford and Caroline Seabright had the sign up sheets available for the members.
New member, Barry Rabinowitz, was welcomed.
Justin Moss then gave his presentation "The Lower Voices You Can't Do Without Them". Young Artists Raehann Bryce-Davis, Mezzo Soprano, and Isaac Bray, Baritone, sang several beautiful arias to illustrate the variety of roles these voices sing from hero (or heroine) to villain (or villainess). The piano accompanist, Maria Paulina Garcia, performed beautifully. The guests thoroughly enjoyed the performance and luncheon!
Enjoy the delightful photos courtesy of Betty Young!
[simpleviewer gallery_id="34″]