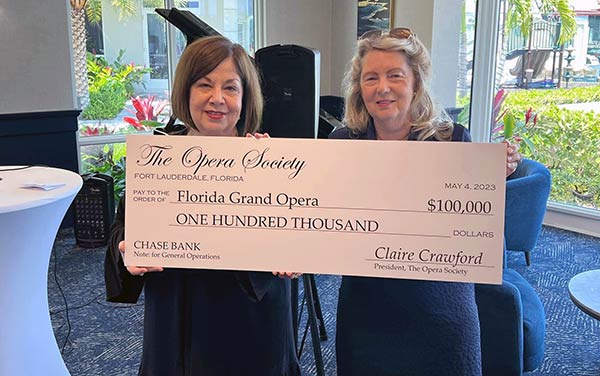 Susan Danis (left), General Director and CEO of Florida Grand Opera, receives a $100,000 check from The Opera Society. Given by Claire Crawford, President.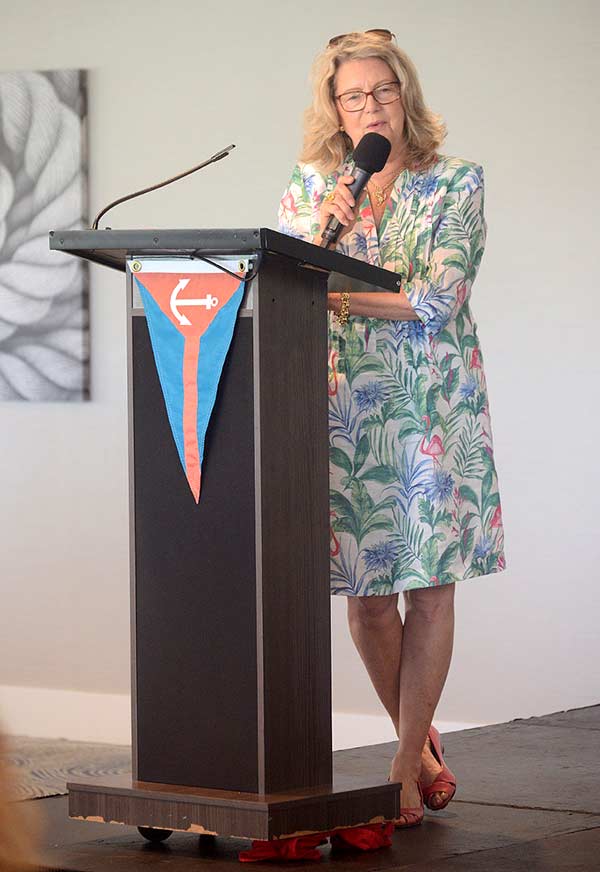 Delivered by Claire Crawford, The Opera Society President (2015-2016, 2021-2023)
It has been a special joy to be a member of The Opera Society since Barbara Copanos invited me to become a member in 2012. For the past two years, it has been most gratifying to serve as president.
I stand before you today exiting my position as President of The Opera Society. It has been a privilege to serve as the leader of this notable organization from May 2021 until today. Congratulations to Patrice Tedescko, who is succeeding me as President. I look forward to continuing to work with our newly-elected officers of The Opera Society in the coming year.
I would especially like to thank the incredible members of The Opera Society. You are the heart of what we do. First, thank you for your membership, your knowledge and kindness and participation, and for your generosity.
We are fortunate in this country to have robust charitable communities that can make use of the American propensity to dream and to act on behalf of the greater good of society. We know that music is good for the soul and that the wonderful tradition of Opera must continue.
Because ticket sales generally cover only one-third of the cost of productions, it is imperative that we continue to support opera through philanthropy in its many forms. As an affiliate of Florida Grand Opera, we help to support their efforts to keep a vibrant opera community growing and thriving.
I could not have had the remarkable experiences I have had without the wonderful and unfailing support of my friend and advisor, Barbara Copanos, and the Florida Grand Opera Board and Staff. Thank you to the FGO Board of Directors, headed by Chair Per Loof, and to the many staff with whom I have worked including Susan Danis, Victor Kendall, Matt Cooksey and Cindy Sadler. Thank you from the bottom of my heart. It has been a joy to work with these extremely capable individuals.
The Opera Society has a Board of Directors and Executive Committee members who work to provide programming throughout the year. Thank you to each and every one of these devoted individuals. They serve at a high level of commitment. This year as always, they generously gave their time and resources to work for the good of The Opera Society – Dahlia Blake, Ken Evans, Carol Frei, Gloria Kline, Barbara Lefka, Karen Mathieson, Nuccia McCormick, Brana Nemeth, Kaye Lynne Northcutt, and Tracy Roloff.
During my term, I have been impressed with the hard work of each member of the Executive Committee. They include Patrice Tedescko. As Vice President of Ways and Means, she has been very deliberate and perseverant in planning the season of programs which were fundraisers. She chaired the Holiday Party and the Guess Who's Coming to Dinner series, both of which were financial successes.
Jan Solomon, as Vice President of Membership, has been conscientious and meticulous in her successful efforts to increase our membership. As co-chair of the Lyrical Lunch series, she showed wisdom and resourcefulness.
Barry Rabinowitz, our Vice President of Public Relations, made sure we had fun along the way by planning the member mixers and keeping the media informed of our events.
Jovana Vukovic was our Corresponding Secretary until circumstances required her to give it up. She was a genius at the computer programs, and she did a great job keeping our members informed, sending e-blasts and keeping our website up to date.
Matthew Dreger, our recording secretary and chair of the bylaws committee, has provided huge levels of support and has been instrumental in elevating our record-keeping to improve our efficiency and effectiveness. He created a Mother Book for the new officers and board to aid them in their assigned duties and he has worked to enhance and update our bylaws to better suit our changing environment.
Maria Salgado, our treasurer, also oversaw the reservations of our large events and has done an incredible job in maintaining our financial records with the utmost integrity and fiduciary responsibility.
Other board members have worked above and beyond.
Constance Ruppender, our parliamentarian, kept our meetings on track and in order. She stepped in and saved the day when Jovana stepped down. Constance kept our communications going to our membership until a suitable replacement could be found. She worked with Matthew Dreger to host a financially successful and free-spirited Mad Hatter's Tea Party.
Dahlia Blake stepped up to the plate when it was suggested that each executive officer have a co-chair; she has co-chaired the Lyrical Lunches with great flair. Her enthusiasm for people and for opera are contagious and will continue to be a positive asset to The Opera Society as she moves into her next position.
Ken Evans accepted the position of chair of the Budget and Finance Committee; this position had not been filled in a number of years. He has gotten us off to a good start by creating a budget blueprint, based on real history, to move The Opera Society forward financially.
Tracy Roloff has chaired the host committee for the Diva and Impresario Luncheons for the past two years, and thanks to her skills and contacts, she has made the events more fun and financially successful.
In closing, I would like to reflect a little on the past two years. There are responsibilities that come with leadership. One is to make the most of the opportunity and to be aware and see the possibilities of change and growth at all times.
We produced over 30 fundraising functions, but we also grew as an organization.
We are now working with FGO to help us with social marketing to the subscribers in order to increase attendance at our events and increase our membership. This has proven to be successful.
To relieve our board members of some of the more intense volunteer work and to enable them to be more active event fundraisers and advocates for opera, we have taken on a bookkeeper, Carol Parente, to handle our Quickbooks and our end of year tax letters.
I believe we need to utilize technology and put the infrastructure in place to enable The Opera Society to extend its reach and meet and increase its financial goals. To that end, we have engaged David Yuen to improve our electronic communications and social media to the members and to the opera community. David created our website in 2007 and he has agreed to help us by delivering regular emails to the membership, maintaining and improving our website, and to help us develop a newsletter. Not only does David know the technology, he knows opera, and if you have opened an email or visited our website, you've seen the results.
Last, but not least, you as members really matter. You make the difference, as does your generosity. With Victor Kendall, FGO's Chief Advancement Officer, giving us a nudge but mostly his confidence, we were able to surpass the financial goal of $75,000, and transfer $100,000 to FGO this season.
I will be passing the gavel to our new President and transitioning to the role of Past President and Vice President for Membership. I congratulate all the newly elected officers. I know that our new President Patrice Tedesco has the leadership skills, vision, experience and dedication to continue moving forward and reach higher goals for the opera community.
Thank you for the confidence and trust that you placed in me. It has been my privilege and honor to have worked closely with all of you for the past two years. You have my gratitude for what we have achieved together.
Thank you.