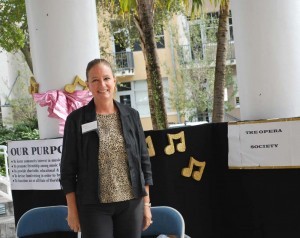 By President Kim Naimoli
We are celebrating 34 years of dedication and commitment to fostering community interest in Opera, promoting charitable, educational and cultural projects in the community and fund raising for Florida Grand Opera.
A Chinese proverb advises us to "Grow a tree for ten years; grow men for a hundred", meaning nurturing and educating human talent is the key to prosperity.
As we reach the last few months of the season, I can say with certainty that The Opera Society has nurtured and educated many hearts and minds this year.
So far this year we have had several Lyrical Luncheons in which Justin Moss, Florida Grand Opera's Broward Director, has educated us on Zarzuelas and the intriguing history of Opera. We welcome the general public at the Lyrical Luncheons and look forward to the next one on November 12, 2012.
Our In-School Opera Project has made presentations at 6 local elementary schools this year. This program introduces young children to Opera with a short performance by the Young Patronesses of the Opera, Miami.
Most of these children have never been exposed to Opera and have no idea what it is. During our presentation to them, their faces light up with joyful smiles.
Guess Who's Coming to Dinner is a fun, social time for all who participate. Sharing meals with friends, making new acquaintances, and experiencing gourmet cuisine is always a great way to spend an evening.
The Opera Society has a rich program of educational and social offerings with a full calendar of events and activities throughout the year. You will find a list of all of our activities on our events page.
I encourage you to take an online virtual tour of our website. View our events page, read about our Young Artists and the wonderful accomplishments of our volunteers and board members.
I also invite you to join The Opera Society and discover the excitement and energy of The Opera Society experience for yourself.
Kim Naimoli
President