Written by Melanie Camp
Hosts: Melanie Camp, Chef and Jan Solomon, Sous Chef
And why I love hosting a gourmet dinner…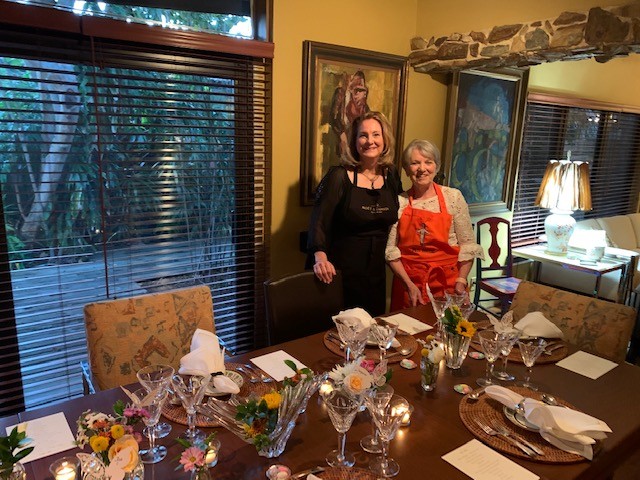 The benefits are astronomical!
It is an opportunity to plan a menu, a gourmet menu, and know that the guests who sign up for the dinner love to come for a special evening.
When I attended my first GWCD it was as a guest at a beautiful home on the ocean and I was seated with an actual Food Critic from the Sun Sentinel.
The hostess entertained as though she were comfortable welcoming a large group of food lovers, opera lovers and certainly gourmands! The evening was delightful!
I began serving on the committee representing the Junior Opera Guild, and eventually as an Opera Society member. When I pitched the concept of collecting menus from past Guess Who's Coming to Dinner hosts for a menu cookbook, the committee and President were excited. And, the Libretto Cookbook was born!
Through the years from my first dinner in 1984, I have hosted at least one dinner each year and sometimes two!
One of my favorite memories was dressing as a maid and my husband as a waiter along with three other couples. We ate at a beautiful kitchen table while serving ten guests in the elegant candlelit dining room of the host.
This year I convinced Jan Solomon to be a server with me to my guests dining. Our surprise host was Mitch Roe, Artistic Administrator, Florida Grand Opera. He is an amazing storyteller. Along with some lovely Opera Society members, I invited friends from Palm Beach. They loved meeting fellow opera lovers and hopefully will subscribe next season.
Always favorites from cooking classes or true restaurant experiences.
The evening began with a Champagne Welcome outdoors and when guests were seated they began introducing themselves. They were served scrumptious Caviar Mousse on Endive Leaves, Carrot Soup with Almonds, Rack of Spring Lamb, Five Leaf Salad, and French Fruit Tart. The conversation was flavored with descriptions and serving by myself and my sous chef, Jan.
It was so much fun! Can't wait to do it again!