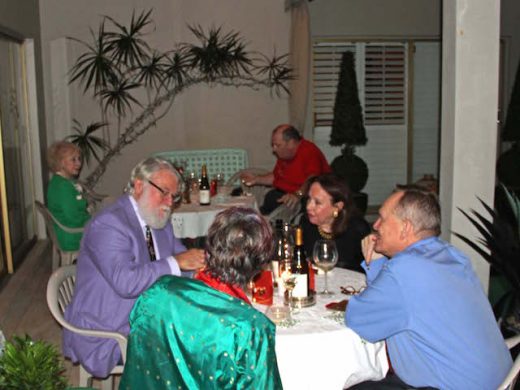 Thank you to Barbara Copanos, Justin Moss and Judith Carney for letting us enjoy an absolutely lovely Christmas Eve dinner at Barbara's home! While the number attending was small, the pleasant conversation, delightful hors d'oeuvres, wines and dinner provided a very special evening for all to celebrate.
Thanks to Chef d' Excellence, Justin, as assisted by Judith and Barbara, we enjoyed dinner in three acts:
Act I: Open Bar Holiday Spirits and an Assortment of Hot and Cold Hors d'Oeuvres
Act II: Herb Roasted Leg of Lamb, Shrimp Risotto Milanese, Spinach Soufflé, Holiday Salad Vinaigrette
Act III: Season's Desserts, Coffee and Eggnog
Many thanks to Karen Mathieson, very much in attendance but not in the photos, which she graciously shared!