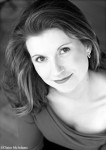 Mezzo-soprano Amanda Crider has been praised for her "focused, golden toned voice."
Ms. Crider has sung with New York City Opera as the cover of Erika in Barber's Vanessa and with Glimmerglass Opera as the cover of Sesto in Handel's Giulio Cesare in 2008 and Pastore #3 in Monteverdi's L'Orfeo in 2007.
She has also performed with such companies as Gotham Chamber Opera, Opera Boston, Des Moines Metro Opera, Sarasota Opera, and Cincinnati Opera.
Ms. Crider was the Second Place winner in the 2008 Shreveport Opera Singer of the Year Competition, 2007 recipient of the Palm Beach Opera Vocal Competition David and Ingrid Kosowsky Award, Finalist in the 2006 Oratorio Society of New York Vocal Competition and 2005 Center for Contemporary Opera Competition, and 2003 recipient of a Richard F. Gold Career Grant from the Shoshana Foundation.