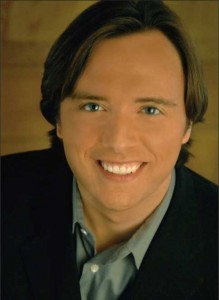 Emperor Altoum (study role) and Pang, Turandot; Andres/Spalanzani (study roles) and Nathanaël, The Tales of Hoffmann; Don Ottavio (study role); Don Giovanni; Capucin and Marquis De Cuigy, Cyrano
Daniel Shirley is distinguished for his "tenor of lyrical allure and power."
Recent engagements for the Jackson, Mississippi native include Edgardo (Lucia di Lammermoor) with Arbor Opera Theater and Mozart's Mass in C Minor with the Bloomington (IN) Chamber Singers.
Following a 2009 apprenticeship with The Santa Fe Opera where he covered Don Ottavio (Don Giovanni), Shirley recorded the role of Edgar in Frédéric Chaslin's Wuthering Heights at the Palau de les Arts Reina Sofia (Valencia). As a 2008 apprentice artist with Central City Opera, he was featured as Sam Polk in the family performance of Susannah.
His professional debut was as Don Curzio (The Marriage of Figaro) with Chautauqua Opera, where he was a 2006 and 2007 studio artist.
Numerous concert engagements have included Haydn's Saint Nicholas Mass with the Indianapolis Symphony Orchestra, J.S. Bach's Mass in B Minor with the Columbus (IN) Philharmonic, Messiah with the Evansville Philharmonic, and Elijah with the Bach Chorale Singers.
Shirley is a graduate of Indiana University, where he recently portrayed Roméo in Roméo et Juliette and Ruggero in La Rondine.