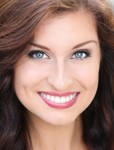 Mary Beth Nelson
Mezzo-soprano
Mezzo-soprano Mary Beth Nelson debuts with Florida Grand Opera in the company's 77th season. This summer she returns to The Glimmerglass Festival as a Young Artist to portray Justice Ruth Bader Ginsburg in Derrick Wang's opera Scalia/Ginsburg and cover Aurelio in Donizetti's The Siege of Calais. In 2016, she made her Glimmerglass debut in The Crucible (Betty Parris), Sweeney Todd (Ensemble & Quintet Soloist), The Thieving Magpie(Pippo cover), and Lost Luggage (Ernestina, Aug 19).
Last season, Nelson was a resident artist with Tri-Cities Opera, where she performed as Flora in La Traviata, Hansel in Humperdinck's Hansel & Gretel, Concepción in L'heure espagnole, Rosina in Il barbiere di Siviglia, Dinah in Bernstein's Trouble in Tahiti, Beggar Woman in Sondheim's Sweeney Todd, and Isabella in L'italiana in Algeri. She also trained as a young artist at Seagle Music Colony in Schroon Lake, NY during its 99th and 100th seasons. Nelson completed her Bachelor of Music degree in 2014 at the Bass School of Music at Oklahoma City University.
This season as an FGO Young Artist, she will sing Alisa in Lucia di Lammermoor and study-cover the roles of Orfeo in Orfeo ed Euridice and Paula in Florencia en el Amazonas.