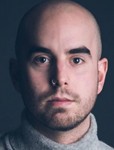 Simon Dyer
Bass
Bass Simon Dyer makes his Florida Grand Opera debut this season. Last season, Simon Dyer was an Emerging Artist at Boston Lyric Opera, while completing his studies at Boston Conservatory. He was seen at BLO as Keeper of the Madhouse (The Rake's Progress) and Antonio (Le Nozze di Figaro). Dyer has participated young artist training programs at The Glimmerglass Festival and Santa Fe Opera. Recent appearances include Giorgio in La Gazza Ladra (Glimmerglass Festival); Luka in The Bear, Mr. Grinder in The Zoo (Odyssey Opera); Superintendent Budd in Albert Herring(Boston Opera Collaborative); Prophet/King in Dark Sisters, Melisso in Alcina, Figaro in The Marriage of Figaro, Immigration Officer in Flight, and Nick Shadow in The Rake's Progress (Boston Conservatory).
In concert, Dyer recently appeared as a soloist in Verdi's Requiem in London, at a recital at the Museum of Fine Art, Boston, and as curator of John Cage's SongBooks and a performance art piece entitled "A Theatre of Dead Artist's Hobbies," also at the MFA. Dyer received his undergraduate training at Trinity Laban Conservatoire of Music and Dance in his native London.
This season, Dyer will sing the roles of Raimondo in Lucia di Lammermoor and 1st Nazarene in Salome.