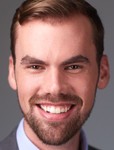 Michael Miller, baritone, was seen most recently in residence at Palm Beach Opera as an Apprentice Artist. Last season included his return to the Glimmerglass Festival, where he sang the role of Lt. Audebert (Campbell/Puts's Pulitzer Prize-winning Silent Night) in a critically acclaimed performance, hailed by the New York Times as "spellbinding."
Previous summer seasons have held roles in Ricky Ian Gordon's The Grapes of Wrath as a 2017 Opera Theatre of Saint Louis Gerdine Young Artist, a Glimmerglass Festival debut as Thomas Putnam in Francesca Zambello's 2016 production of Robert Ward's The Crucible, as well as three seasons of study at Seagle Music Colony, where he sang the title role in Il barbiere di Siviglia in 2015.
While earning his Master of Music from Boston Conservatory, Michael appeared as Eugene Onegin, Joseph DeRocher (Dead Man Walking), and Herr Fluth (Die Lustigen Weiber von Winsdor). Michael also holds a Bachelor of Music from the University of Michigan.
Originally from Meadville, PA, he now calls Boston home. Mr. Miller made his Florida Grand Opera debut during the 2019-2020 season as Masetto in Don Giovanni and The Official Registrar/Prince Yamadori in Madama Butterfly. For more information about Michael, visit www.michaelmillerbaritone.com.