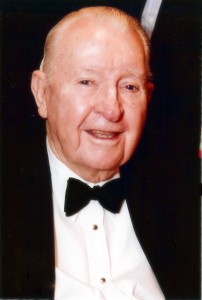 Ben Harrison was born in Alabama. He was drafted during World War II and served in the Philippines as a tank driver in the army. After the war, he attended the University of Alabama under the GI bill and in only 2 1/2 years, he earned his bachelor's degree in accounting.
He continued his studies at Faulkner University where he became a CPA in 1953 and completed his Law degree the following year. In 1958, he was employed as a tax supervisor by U.S. Pipe, a New York Stock Exchange, manufacturing company headquartered in Birmingham, Alabama. Within 8 years, he rose to become CEO. Later, he became president and CEO of another NYSE company: U.S. Home.
In 1976, he formed Harrison Industries, Inc. where he has remained chairman and president. Harrison Industries is a diversified company with primary manufacturing subsidiaries.
The list is too long to print of the many churches, clubs, and organizations that have benefited from Ben's generosity of spirit and time, even while he was running large corporations. He is a life member of the Samford University Board and a member of its Executive Committee. In 1987, the Samford University theatre was named the Ben F. Harrison Theatre. He is a member of the Lauderdale and the Coral Ridge Yacht Clubs. He and his wife, Carol, support the Henderson Mental Health Center, the University of Miami Women's Health, the Symphony of the Americas and they are Friends of the Broward County Library.
Ben joined the Board of Directors of Florida Grand Opera in 1998 and he is a member of the Executive Committee. He served actively as Chairman of the Board for three years and is currently Chairman Emeritus. Ben and Carol have sponsored the Broward performances of Cosi fan tutte, Il barbiere di Siviglia, Boris Godunov, Le nozze di Figaro, Turandot, Die Zauberflote, Carmen, and The Abduction from the Seraglio. This year, they will be sponsoring the Broward performances of Madama Butterfly.
Ben met Carol, his wife of twenty-nine years, while on a business trip to Florida. As Ben put it, "She was the prettiest thing I've ever seen." In 1983, Ben and Carol traveled to Fort Lauderdale to visit a friend. Ben saw that the house across the street was for sale, so he bought it and they moved in.
Ben really loves Fort Lauderdale. One night, at an after-opera dinner for Florida Grand Opera donors, he told a great story of a trip he and Carol made to a glamorous European city. They had packed their luggage, flew on the plane, and checked into a five star hotel. Then they looked at each other and said, "We'd rather be in Fort Lauderdale!" So they caught a cab back to the airport and flew home! The Harrisons have four children, ten grandchildren, eight of whom live in Fort Lauderdale, and one little dog. They cherish their warm and close family.