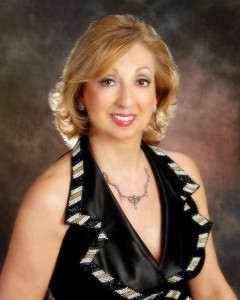 Helena's first memories of her "volunteer" career were as a Pink Lady in a leading hospital in Bogota, Colombia, a dynamic international City where she grew up and developed her distinctive style. Her noteworthy "professional" career in Bogota helped her hone the skills which she later applied so ably and generously to her volunteer work. She was Executive Administrator of a Bilingual English school and held Executive Administrator and Public Relations positions in a private Cardiovascular Hospital, organizing social events for National and International Medical Conventions.
When she made her home in South Florida 24 years ago, she continued as an active community volunteer and avid patron of the arts. In recognition of her community leadership and commitment, Helena was honored by the Fort Lauderdale Philharmonic Society in 2001 as a "Woman of Style and Substance", where for many years she was on the Board of Directors. Past President Carol Frei vividly recalls Helena's elegant formal tea service at the board meetings. "She set the tone for beauty and excellence" a signature for all that Helena does.
It was in 2003 that Helena was nominated as a "Hispanic Woman of Distinction". Those of you who know Helena appreciate how enthusiastically she shares her cultural background. "As a Hispanic lady, I treasure my background..my costumes..my memories."
Then again in 2003, The Opera Society recognized her with the "Humanitarian Award". Chair Rose Mary Zenobia remarks, "Helena is an incredible role model."
More recently in 2006 Helena received the "Woman of the Year" Award from the 1000+ Club of the American Cancer Society. Past President Nancy Pedicord notes, "Helena continues to soft pedal her numerous accomplishments for our community."
Because of her deep interest in the arts, Helena's first volunteer commitment in Broward began 20 years ago with the Friends of the Museum of Art where, as a Past President, she continues on the Executive Board and chairs fundraising events.
Currently she is also on the Board of The Opera Society where she chairs fundraising events and has served as VP of Membership and Publicity. She prioritizes her Board responsibility for the International Women's Club for which she has chaired remarkably successful events benefiting NSU scholarship programs. Other current Board affiliations include the Symphony of the Americas Society, the Goodwill Ambassadors and the Leonardo Da Vinci of the Museum of Discovery & Science.
Helena's accomplishments and her leadership are inspiring. She stands out among the many women who shape our community. It is to her friends, family and her husband Henry "Cappy" Caplan that she defers. "My husband is the best present of my life, and thanks to my family and friends, my life shines with their love and kindness every day".