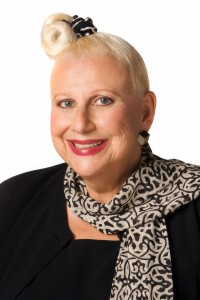 Jane has been devoted to the cultural arts in Miami for over four decades…the entire duration of her 44-year marriage to Dr. Morton Robinson. Jane, an admitted operaholic, known for a sometimes twice-a-day habit, began her opera-going over 50 years ago as a "standee" at the old Met in her native New York City. Today, she and Dr. Morton have subscriptions to both Florida Grand Opera and the Metropolitan Opera. Summer sojourns to Salzburg, Santa Fe, Glimmerglass, and Verona are not uncommon.
A longstanding member of the FGO Board of Directors, Jane currently serves as President of the Board. She represents FGO on the Board of the Performing Arts Center Trust, as well as Opera America. Her husband is a member of FGO's Finance Committee. Together, they are totally committed to the company and its mission in all aspects of its endeavors.
In January 2008, Jane was honored to receive the first Opera America National Trustee Recognition Award for a Level 1 opera company. In the ceremony that took place in New York City, Jane recalled that she started her life as an opera volunteer by joining the Young Patronesses of the Opera and the Guild of Florida Grand Opera.
A graduate of Vassar College in theater and music, Jane is currently serving as 50th Reunion Chairman for the Class of 1961. She is an accomplished pianist and lyricist whose award-winning jingles were heard on many South Florida radio stations throughout the 1980's and early 1990's. Her career in advertising and marketing began at J. Walter Thompson, continued at Bal Harbour Shops and Mayfair-in-the-Grove, prior to founding Robinson & Weskel Communications, the advertising and PR firm she owned and managed for many years before retiring in 1994.
Her husband, Philadelphia-born and educated, Morton J. Robinson, M.D., is a graduate of the University of Pennsylvania and Jefferson Medical College of Thomas Jefferson University. He is Chairman Emeritus of the Department of Pathology and Laboratory Medicine at Mount Sinai Medical Center, where he is currently a member of the hospital's Board of Trustees and a past director of the pathology residency program. He is a professor of pathology at the University of Miami Medical School and an author of numerous papers and medical texts.
The Robinsons have two children: Jay, a produce broker who is married to Karyn, and Jenna, a cabaret singer/actress. They are the proud grandparents of Jay and Karyn's children, twelve year-old Danica, a diva-in-waiting, and nine-year-old Benjamin, a guitar-playing boy soprano.