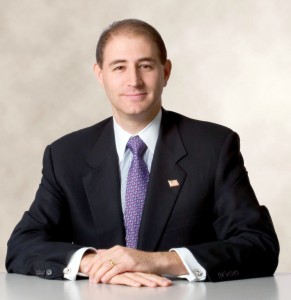 Victor H. Mendelson is President and Chief Executive Officer of HEICO Electronic Technologies Corp. (HET), one of two principal operating subsidiaries of NYSE-traded HEICO Corporation. HET is engaged primarily in the design, manufacture and sale of complex niche electro-optical, electronic and microwave components employed mostly in mission-critical defense, space and medical systems. HET is the substantial market leader in all of its product categories.
Victor was born in New York, NY and moved to Miami, FL with his family when he was 15 months old. He grew up in South Miami-Dade County, graduating from the local Gulliver Schools. He received his AB degree from Columbia College of Columbia University, New York and he is currently a member of the Columbia College Board of Visitors. He received his JD degree from the University of Miami School of Law.
Victor's involvement in Florida Grand Opera (FGO) dates back to his early childhood. His mother, Arlene Mendelson, brought him to the children's operas produced by the Young Patronesses of the Opera (YPO), the oldest FGO affiliate group. Arlene has served as YPO President, among many other roles in that organization. She is currently the Vice Chairman of the FGO Board of Directors, on which she has served for nearly 30 years (including its predecessor the Miami Opera Guild). Victor joined FGO's Finance Committee in 1996 and the Board of Directors in 2000, a second generation Board member. He currently serves as Chairman of the Finance Committee and Treasurer of FGO.
Victor is a Trustee of St. Thomas University in Miami Gardens, FL, where he chairs the Board's Academic Affairs Committee, and is a member of the Board of Directors of the Boys & Girls Clubs of South Florida Foundation.
Victor also serves as a member of the Board of Directors and Executive Vice-President of HEICO Corporation. He was the Company's General Counsel from 1992 until late 2008. HEICO is the world's largest designer and manufacturer of factory-new, FAA-approved, non-OEM commercial aircraft replacement parts and a significant provider of aircraft accessory component repair and overhaul services. HEICO counts all twenty of the world's largest twenty airlines as customers. With his father, Laurans, and his brother, Eric, they assumed management control of HEICO Corporation in 1990. Under their management, the firm experienced compound annual growth in sales and net income approximating 20%. The company evolved from an operating loss in their year of takeover to a business producing operating income margins in the top five percent of publicly-held aerospace and defense companies.
Victor is married to the former Lisa Hellinger, who also was raised in South Miami-Dade. Lisa is a member of the Beth Am Day School Board in Pinecrest, FL and a member of the Board of the Greater Miami Jewish Federation Southwest Division. Lisa and Victor reside in Coconut Grove, FL with their three elementary and middle school-aged children, Alexander, Lindsey and Nicole.