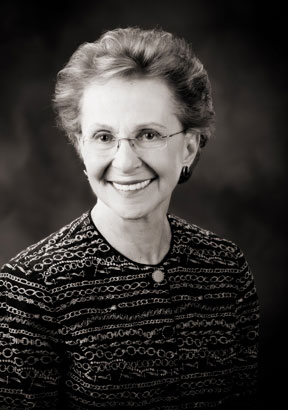 Judith Carney's introduction to the opera was backstage at the Met – the Old Met – where she was a student at the Metropolitan Opera Ballet School. The dance studio was in the upper reaches of the building accessible by a rickety old backstage elevator.
Her arrival weeknights would coincide with the pre-curtain call and, as the elevator cage doors opened on each floor, the narrow hallways would be lined with performers waiting to go on stage. Invited to be a supernumerary, Judith declined with regrets in order to pursue her academic studies that would eventually lead to a degree in history from Smith College.
It would be more than 40 years before she, once again, would be backstage at the opera.
After college, Judith started a career in broadcasting, working in the Advertising and Promotion Departments of radio and television stations in New York and Boston. Following a move to California, she helped establish the UCLA Law Alumni Association and was that organization's first Executive Director.
In 1986, Judith moved to Florida with her late husband Don Carney, Producer-Director of the New York Yankees baseball telecasts, and has been active as a cultural administrator in the community since.
Currently Director of Campaign Development at the Broward Performing Arts Foundation, she earlier was Director of Individual Giving for Florida Grand Opera, having served as Managing Director in Broward for both the Opera and Miami City Ballet. She has also held positions with the Florida Philharmonic, The Harid Conservatory and Business Volunteers for the Arts (ArtServe) in Fort Lauderdale.
Judith was a member of both the Broward Cultural Council and the Palm Beach County Cultural Council, chairing the Cultural Executives Committees of those two agencies. A graduate of Leadership Broward Class XX, she has also served as Vice President of the Association of Fundraising Professionals/Fort Lauderdale-Broward Chapter, Vice President of the Broward Women's Alliance and President of the Smith College Club of Fort Lauderdale.
Over the years, Judith has occasionally been lured by the roar of greasepaint. She was assistant choreographer and occasional performer with a dance company in Los Angeles.
Earlier, as stage manager for some of the early musicals of playwright Tom Eyen at New York's iconic Off-Off Broadway venue, Café La MaMa, she was a last-minute replacement for an ailing Bette Midler. Judith acknowledges that it was not her talent that put her in the spotlight; rather, as stage manager, she was the only one who knew all the lines.
A widow, Judith is happy to have a family that includes five step-children and 11 grandchildren.