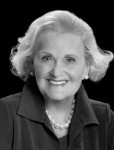 An all-Floridian, Gloria grew up in Ocala, where she was active in the high school drama club, producing a one-act farce written by her grandmother about children in an old one-room country school. She graduated cum laude from Stetson University in Deland, Florida, with a double major in religion and English.
After moving to Broward County, she taught English and directed plays at Stranahan and Fort Lauderdale High Schools; then having finished her doctorate in English at Florida State University, she went on to teach at Florida Atlantic University, where her special areas were modern poetry, mythology, and Bible literature. Her doctoral thesis was published by Ann Arbor Press as "The Last Courtly Lover: W. B. Yeats and the Idea of Woman."
In the 1990's she was Director of Cultural Affairs for FAU in Broward County.
Gloria is a member of the Palm Beach Branch of the International English-speaking Union, the 1000+ Club, and the Gold Coast Guild of Cystic Fibrosis. She serves as treasurer for the Friends of the Museum of Art and is a member of the scholarship committee of the Broward Women's Alliance. She is also an active member of the Biblical Archaeology Society and the Center for Jungian Studies of Southeast Florida.
A member of The Opera Society since the 1980's, she has held various offices, including that of president in 2010-11. She chaired the Diva-Impresario Luncheon in 2005 and was named Diva in 2007. In 2004, she was Woman of the Year for the Philharmonic Society.
Gloria has been a speaker for the Lyrical Luncheon series three times, reviewing "Molto Agitato: The Mayhem behind the Music at the Metropolitan Opera" by Joanne Fielder, "The Toughest Show on Earth" by the Met's General Manager Joseph Volpe, and "The Bride of Lammermoor" by Sir Walter Scott.
She is also a reader at Insight for the Blind, where she records for the Talking Books Program through the Library of Congress. Her other interests include studying the archaeology and history of the Middle East and traveling; currently she is looking forward to being with the English-Speaking Union in London for The Queen's Diamond Jubilee in June, 2012.