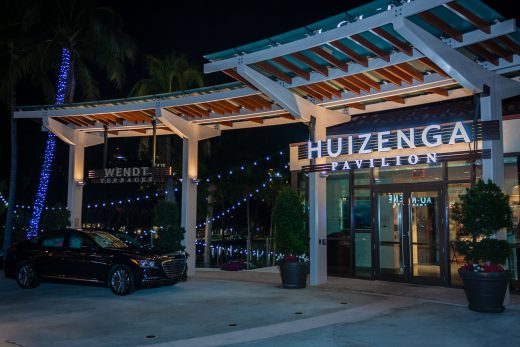 The Opera Society is one of the oldest support groups in Fort Lauderdale, organized and founded in 1978 in Fort Lauderdale by leading city founders of the Symphony and the Art Museum. After nearly forty years of fundraising, they saluted Florida Grand Opera recently with a 75th Anniversary Celebration on the night of the final performance of Eugene Onegin at the Broward Center for the Performing Arts on February 11th.
Patrons were greeted prior to the performance with cocktails and champagne in the Peck Courtyard where they were photographed in couples and small groups for a favor to be presented after the performance. A gala dinner was served in the beautiful Mary Porter Riverview Ballroom with music of the Barynya Balalaika Duo in keeping with the Russian Ball Theme. Susan Danis, CEO and General Director of Florida Grand Opera introduced the Board members and thanked the guests for their support. She thanked Kelly Shandley the CEO of the Performing Arts Center for his support of opera at the Broward Center for Performing Arts. The guests then attended an outstanding performance of Tchaikovsky's Eugene Onegin in the Au Rene Theatre.
Chairpersons, Dr. Linda Balent and Ms. Barbara Copanos then greeted guests after the Opera at a Dessert Banquet in the Riverview Ballroom for dancing and more Champagne flowed. Philip Pierce, FGO Artist Administrator introduced the members of the cast at the after-opera party and recognition to major sponsors: Mr. Michael Borgioli of Fidelity Investments, Mr. John Halsey Copanos of ECI Pharmaceuticals, LLC and Mrs. Barbara Copanos. Dr. Linda Balent and Mrs. Barbara Copanos accepted recognition for chairing the most successful fundraiser for the opera in recent years netting $65,000 for Florida Grand Opera. Hats Off to the Opera Society!
Melanie Camp, VP Publicity
Enjoy the photos courtesy of Downtown Photo.